If you are in need of a routine that does not involve a lot (or any!) foundation, then this tutorial is for you! YouTuber Chloe Morello demonstrates a natural makeup look without foundation. #1 Prime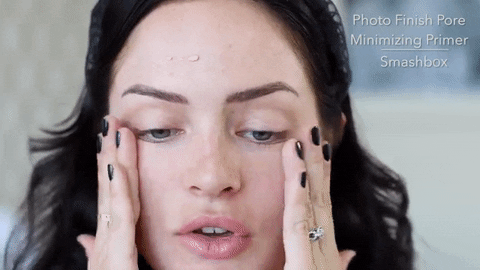 First, we need to prime our skin to give it an even texture and a base to work with.
#2 Concealer
Gives your eyes a base as well by covering any veins.

#3 Shimmery Eyeshadow Brighten your eyes with a light eyeshadow to make them pop!
#4 Colour Correcting Only use it where you absolutely need it! Use a tone that will correct the darkness or redness. Make sure you start light because it is much easier to build up slowly than it is to go back.
#5 Mascara Just focus on the top lashes for the time being.
#6 Green Concealer
Cover your pimples with a green concealer. Put a small amount on the back of your hand and use an eyeliner brush for the best results. Then add a touch of colour corrector. Be careful not to add to much, so you don't remove the green concealer.
#7 Brows Use a fin-pointed pencil and brow-smudger to fill in your brows in a quick and easy manner.
#7 Concealer Line the outside of your eyebrows and blend it in without getting too close to your brows.
#8 Concealer and Corrector Brighten around your nose, mouth and eyes to bring out your best features. It will bring the whole look together.

#10 Blush
Mask any redness by evening out your cheekbones with some blush.

#11 Lip Gloss and Concealer Use concealer to highlight the shape of your lips and make them look a teeny bit bigger.
Feature Image via Chloe Morello